Generator Power have extensive experience working with events organisers to provide temporary power for outdoor winter events across the UK.
Whether you are organising a Christmas market, a temporary ice rink in a city centre, or a large Winter Wonderland on the grounds of a park or stately home, making sure you have a reliable temporary power supply is essential.
Our offer spans from the simple supply and installation of skid mounted or towable generators for market stalls lighting and sound, and live entertainment, to full temporary power and access solutions for large scale events.
Here is a brief overview of our hire services for winter events:
Reliable, high specification generators
We understand the importance of having a reliable power supply in place for the duration of your event – as even just a few hours without power can incur costs and have a detrimental effect on customer perception.
To make sure you only ever receive the most reliable equipment, we only use high performance Atlas Copco generators, and each set is regularly serviced and tested prior to deployment. And because we have one of the largest fleets in the UK, with generators ranging in size from 20kVA to 1250kVA, you have the added assurance of availability of kit, regardless of the size of your event.
Noise reduction
For events such as Christmas markets and ice rinks, where the generator may need to be installed close to where your attendees are, we offer a number of solutions to reduce noise levels and make our (already super-silent) generators even quieter:
Powersafe: Our Powersafe containerised generators were purpose built to operate well below permitted EU noise levels, while also protecting your equipment from theft and vandalism. The Powersafe is ideal for city centre events or sites where the generator may be left unattended overnight.
Acoustic barriers: We can supply acoustic barriers to place around the generators – both to reduce noise, and to act as fencing to separate hire equipment from public areas.
Cable: We can also supply and install longer lengths of cable (with protectors) to allow the generator to be installed at a distance away from public areas, both for noise control and security.
Emergency response and contingency planning
In the unlikely circumstance that you have any problems with your generator during your event, our engineers are always on hand. We offer genuine 24 hour emergency call out, 365 days per year, with staff stationed at each of our depots throughout the UK. So if you run into an issue, we can send out an engineer to fix it and restore power quickly, no matter what time of day (or night) it is. And with our telemetry service, our service team can remotely monitor the status of your generator at any given time, enabling us to identify and and fix any overloading or technical issues before they become a bigger problem.
For events such as ice rinks and winter wonderlands, which may be in operation for one or two months, we also offer a fuel management service to make sure you never run out of fuel. Our fuel team will remotely monitor the fuel levels in your generator, and arrange a time to refill the tank before it gets too low to make sure your generator doesn't stop running.
UK-wide network of depots
On top of this, Generator Power have a network of depots spanning the UK, from Inverness to Reading, meaning that we can deliver a quality service right on your doorstep. We keep equipment (and skilled engineers) in all of our depots, meaning that we can get to you fast if you run into any problems. And because we will send kit from your nearest branch, we are also able to offer competitive pricing on delivery and installation.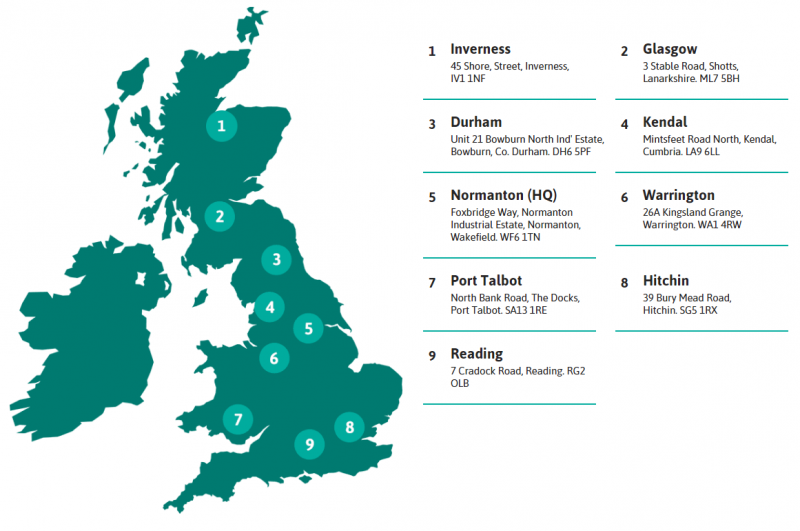 Site access and temporary flooring
Heavy rain, snow or ice in the lead up to your event can cause the ground to become soft and prevent vehicles and equipment from easily accessing the site. So if you are organising an event in a park or field, you may also need to consider hiring trackway.
With our sister company, Trackway Solutions, we can make sure that your event is easily accessible all winter long. So whether you need a temporary road to transport market stalls and equipment for assembling ice rinks and rides, or flooring to stand lighting and sound systems on, we can supply and install our aluminium trackway to provide a stable, solid surface in any weather.
Visit the Trackway Solutions website to find out more about hiring trackway for your event.
Specialist vehicles
Generator Power and Trackway Solutions also both operate a large fleet of specialist vehicles that enable us to access any event site, even in poor weather conditions – no matter how remote, or difficult to manage it may be.
While we may not always need to use all-terrain vehicles such as Unimogs (which have allowed us to deliver generators halfway up a mountain), 4×4 Toyota Hilux and Land Rover, servicing and refuelling vehicles allow us to to reach your site wherever it is.
Project management
Our full turnkey solutions for events go beyond simply delivering and installing equipment, also encompassing complete project management.
Your dedicated account manager will specify your exact requirements for power and distribution and manage the whole process for you. Liaising with credit control, hire desk, logistics and service, they aim to take the pressure away from you and make your hire as easy as possible. Fully qualified engineers and NICEIC accredited electricians will then attend site to install and sign off all equipment, and project managers can also remain on-site throughout the duration of your event where required.
Generator Power are a specialist supplier with over 20 years' experience in providing and installing high quality diesel and LPG generators for outdoor events and refrigeration systems.
For more information about our previous work for the events sector, see our case studies here. Or to discuss your requirements for an upcoming project, call our team on 0845 601 2187 or request a call back.