The Challenge
Working in partnership with a national house builder to reduce their reliance on fossil fuels to power a site compound.
Site compounds are typically powered by 60Kva and 40Kva generators, often running inefficiently due to inconsistent loads. As a result many generator rental firms over-spec the generator to meet a worst case scenario. Hence many sites' generators are oversized, inefficient and burning unnecessary fuel.
Generator Power's Green Approach
After spending time with both the buying team and the site managers, we gained insights into the requirements for both. Understanding how to offer the best solution, supporting both the need to reduce costs and emissions.
Over a month long period of reviewing different solutions, it was decided a battery solution would best fit the requirement. We were able to offer a bespoke battery solution that would run the entire site using stored power on a 24-hour period, 7 days a week.
A solution that surpassed all expectations – Generator Power has been able to offer a first in battery technology.
Environmentally friendly

Highly efficient

Up to 250Kva battery power

Meets the variable power demands of construction sites.
Our Solution
The installation consisted of a 60Kva generator and 45Kva battery unit, both units included telemetry. The 60Kva is designed to solely charge the battery unit, the reason behind this partnering of products is that the 60Kva has the capability to fast charge the battery unit in the most efficient way, burning fossil fuel at its most optimum rate.
As a result we have been able to power an 8-cabin compound (including drying room) solely on battery power, over a 25-hour period on a 2-hour charge from the generator. But we didn't stop there. After working with the customer and cabin supplier, we made further recommendations and alterations to the cabins themselves – by fitting sensors and timers within each cabin we have managed to extend the runtime of the battery further.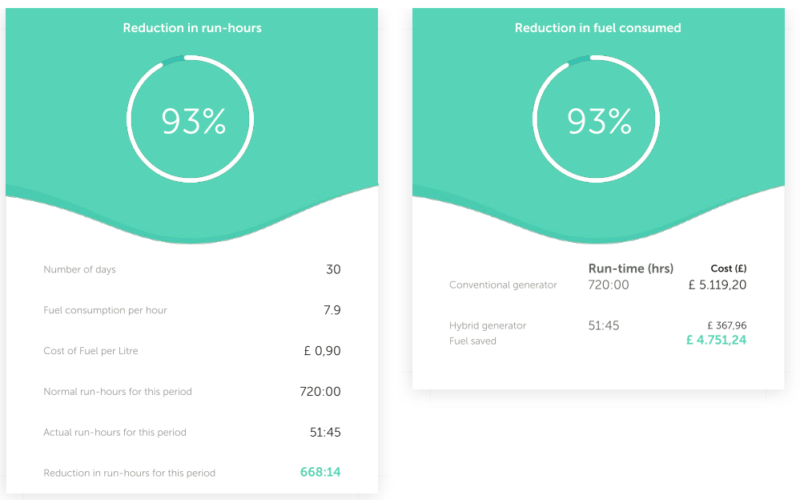 Fuel costs saved: £4,751.24

CO2 savings: 13,936.96kg
The Results
During September 2021 we managed to reduce the generator runtime to just 52 hours over a 5-week period. Offering over 660 hours of silent, efficient power from the 45Kva battery unit.
As winter and the cold weather starts to change the behaviours within the compound, we have used the telemetry data to help the customer manage their ground team to become more efficient. Turning off lights, turning off the power on the products they are no longer using.
We continue to monitor the site – looking for ­ways we can continue to contribute to a more sustainable future.